With the winter days dragging out, Tait and Mokum have announced a collaboration that has us longing for blissful summer afternoons! 'An Australian Outdoor Story' debuts a new collection of outdoor textiles, channelling '70's nostalgia and dreamy scenes of laissez-faire lounging. Standouts from the collaboration include a statement fabric designed by Catherine Martin named 'Tropicalia' and 'South Beach' a lush outdoor velvet!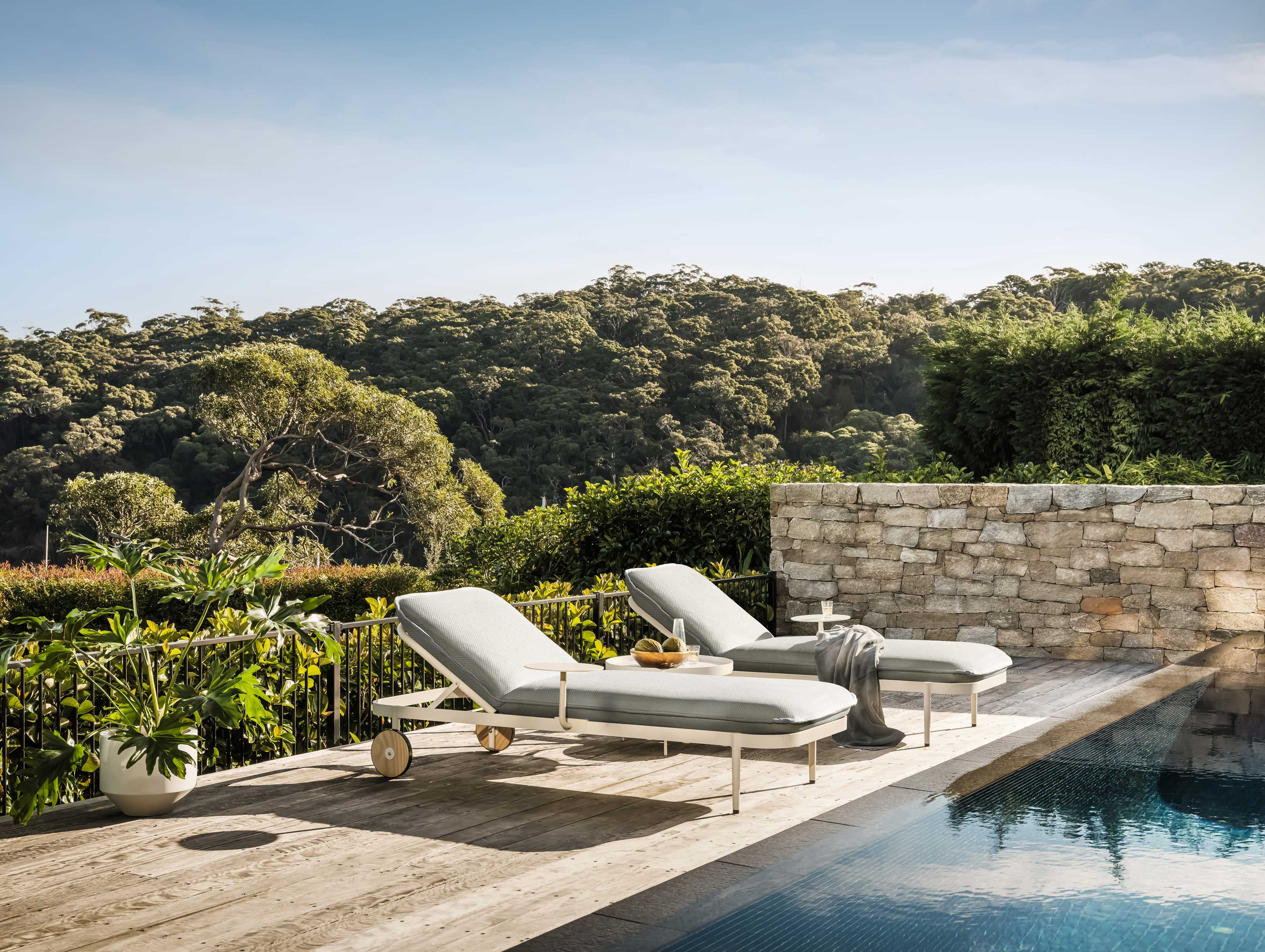 Tait's Trace sunlounge designed by Adam Goodrum in Mokum's Miami 'Silver'.
Referencing design cues from the '70s and a biophilic return to nature, the collection embodies a sense of relaxation and escape. Showcasing fluid, rounded and tubular frames with soft, cocooning volumes swathed in high-texture weaves, plush velvets, and Tropical inspired prints, the collection realises new and luxurious ways of living outdoors.
Perhaps the most covetable piece of the collection, Tait's Trace armchair (by leading Australian designer Adam Goodrum), debuts Mokum's new 'Tropicalia' statement outdoor fabric. Designed by famed Australian costume and production designer, Catherine Martin, (most notably renowned for her Academy Award® winning and nominated work across films including; Moulin Rouge, The Great Gatsby and Australia directed by Baz Luhrmann) Tropicalia features leafy fronds, bunches of bananas and playful sophistication.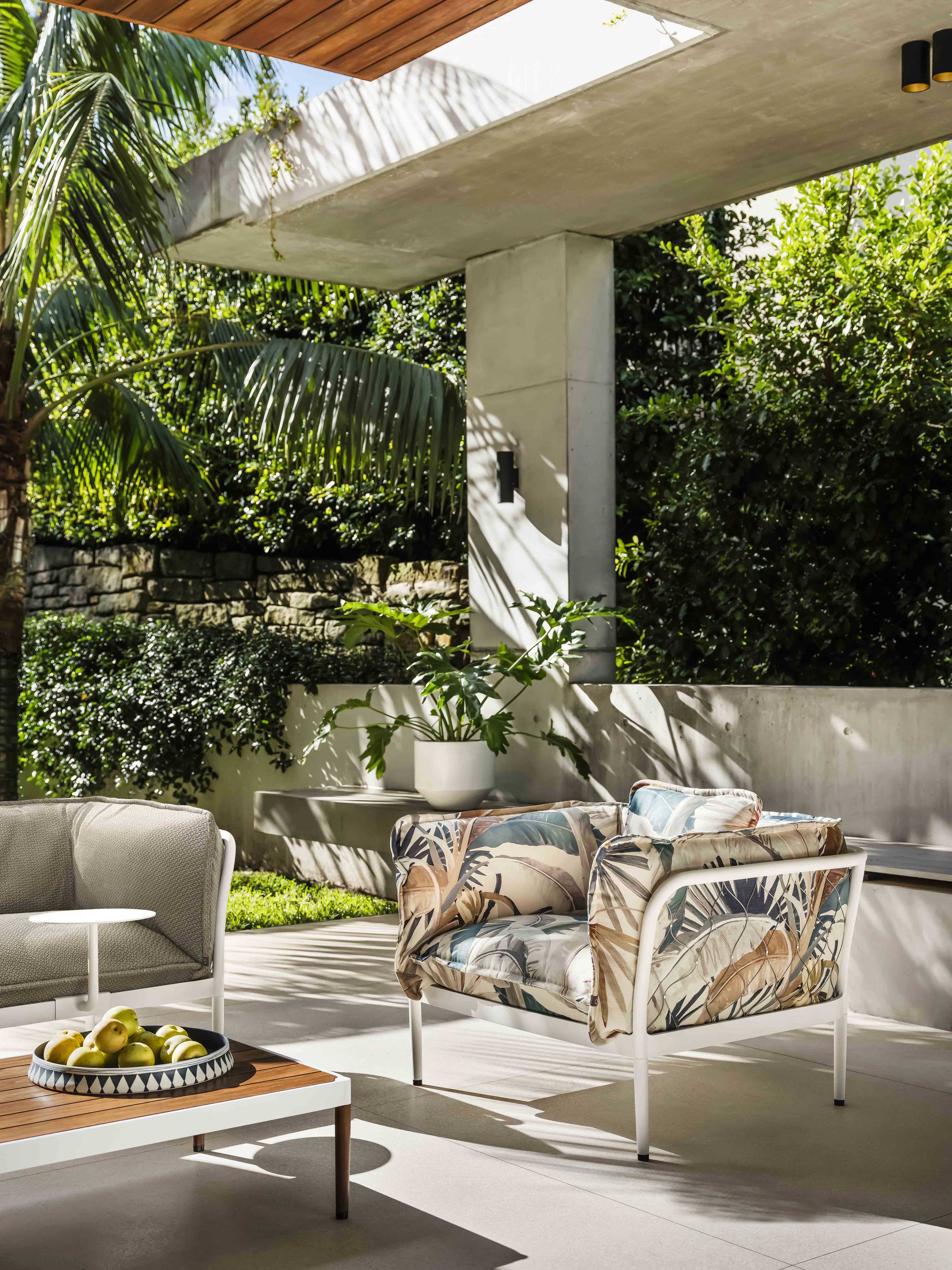 Tait's Trace collection designed by Adam Goodrum, upholstered in Mokum's Tropicalia 'Gilver' designed by Catherine Martin & Mokum's Miami 'Sand'. 
Never before have we quite seen high performance in the outdoors meet the refined luxury of indoor lounging than with the release of Mokum's lush outdoor velvet, South Beach. The forward-thinking outdoor velvet welcomes into the fold a rich yet pleasantly muted palette as well as a line of refined nautical-inspired velvet stripes.
Tait's Trace armchair designed by Adam Goodrum in Mokum's South Beach 'Palm Leaf' outdoor velvet.
Tait's Linear bench in Mokum's South Beach Stripe 'Gliver'.
Each detail in the collection has been designed and made to last, with both Tait and Mokum respectively drawing on over 25 years experience designing and manufacturing products to withstand Australia's harsh climate. Tait's low maintenance product frames are finished in hard-wearing, UV stable powder coat with timber elements made with dimensionally stable, sustainable timber. "In recent years, performance advancements in outdoor materials have improved so much so, that we can readily achieve the luxury of an indoor lounge with one that is all-weather" says  Tait's Creative Director, Susan Tait.  Each outdoor fabric in the collection boasts outstanding performance indicators including; UV light fastness, solution-dyed compositions and bleach cleanability. "If a fabric can't meet what we deem our non-negotiables, we simply won't release it" explains Mokum's Design Director, Stephanie Moffitt.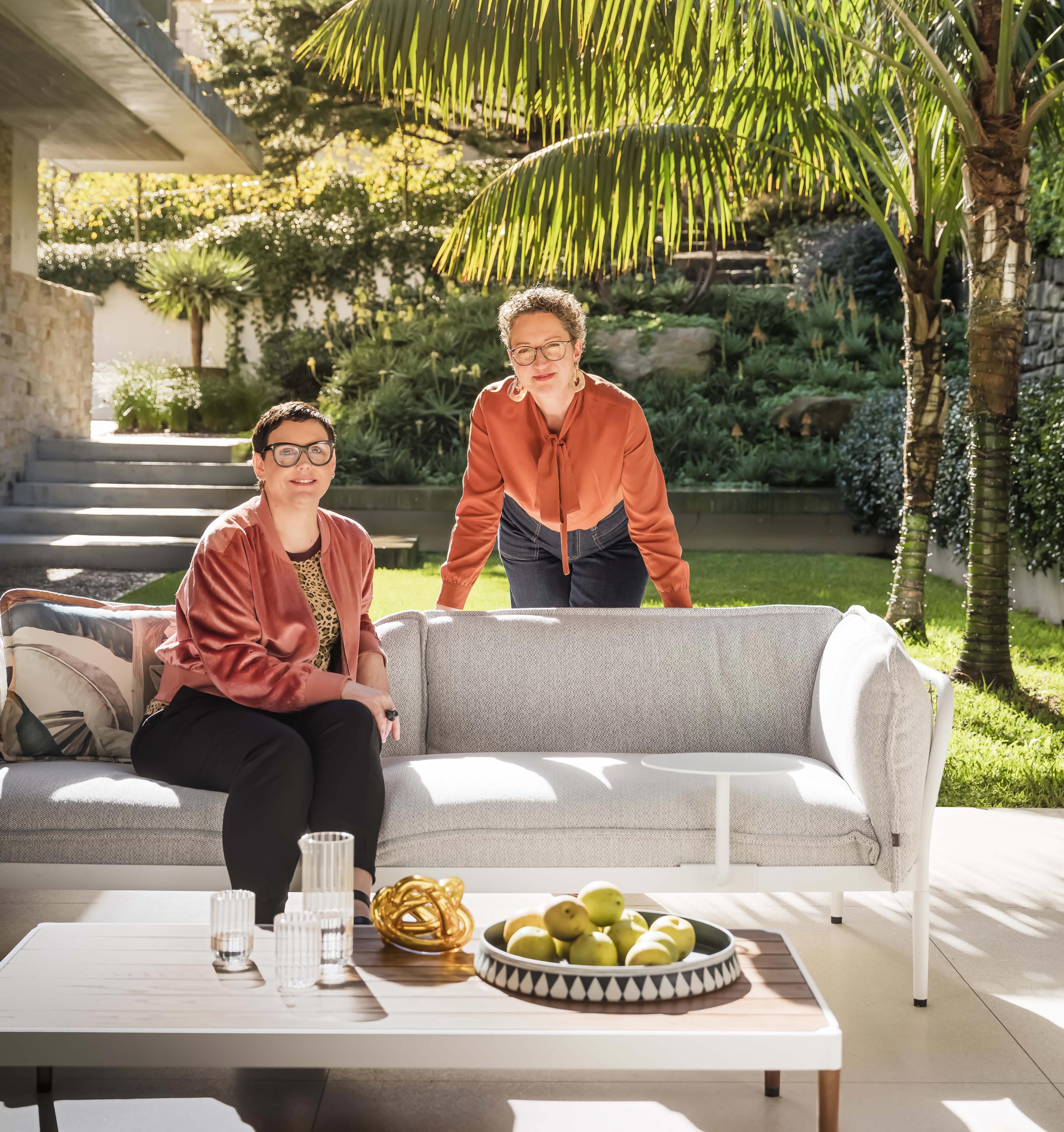 L-R Stephanie Moffitt, Design Director of Mokum and Susan Tait, Creative Director of Tait.
Tait & Mokum's Summer 2019/20 collection is now available for order through Tait's showrooms and dealers. Mokum's Tropicalia, Miami, South Beach and South Beach Stripe collections are now available for pre-order through James Dunlop Textiles. For more information, contact our showroom.
'An Australian outdoor Story' was photographed by Robert Walsh and styled by Steve Cordony.