EVERY PIECE COMES WITH A STORY 
When you choose a Carl Hansen & Søn product, you gain more than just a piece of furniture. You become part of a proud tradition of distinctive and beautiful craftsmanship, where nothing has been left to chance.
The CH24 Wishbone Chair By Hans J. Wegner
One of the very first models Hans J. Wegner designed especially for Carl Hansen & Søn, the CH24, or Wishbone Chair, has been in continuous production since 1950.
Considered one of the most famous symbols of Danish furniture design, the CH24 is globally admired. Its elegant, curved frame is often spotted in the world's best restaurants and hotels as well as homes all over the world. The combination of beautiful wood and the hand-woven paper cord seat is a physical form of Carl Hansen & Søn's philosophy: the finest craftsmanship and tactile materials imbued with a unique story.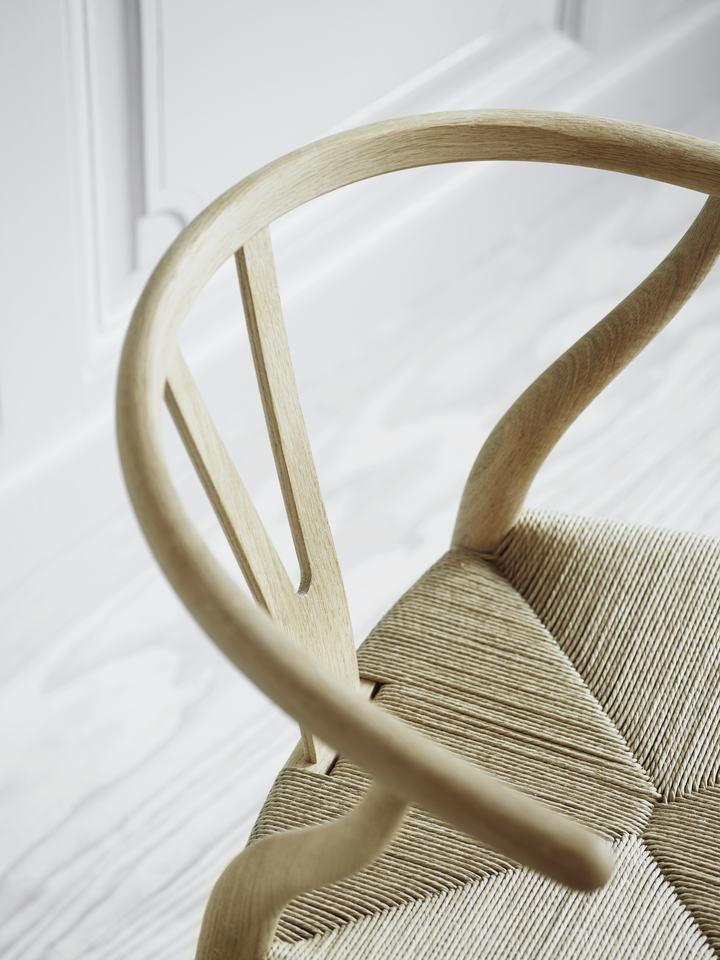 The timeless essence of modern Danish design
With a form that is uniquely its own, the iconic CH24 Wishbone Chair holds a special place in the world of modern design.
Wegner took a giant leap in furniture design with the CH24, combining the top rails and arms into a single piece. To give stability to the steam-bent top and ensure comfortable support, Wegner developed the characteristic Y-shaped back that earned the CH24 chair its famous nickname: Wishbone.
In the late 1940s Wegner designed a series of chairs inspired by the thrones of Chinese Emperors. The CH24 was one of these designs, although it became known as the 'Wishbone' thanks to its steam-bent 'Y' back frame, itself a Wegner creation: a back support that was comfortable yet minimal; the antithesis of the rigid, heavy backs of traditional dining chairs.
More than 100 operations are required to manufacture each chair, with most carried out by hand. The envelope-woven seat alone takes a skilled craftsman about one hour to create using approximately 120 meters of paper cord, whose impressive durability makes the chair strong and long lasting.
The Wishbone chair is imbued with so much of Carl Hansen & Søn's heritage, with the brilliant talent of Hans J Wegner, and with the soul of Danish design. Its timeless form and beautiful simplicity have seen it grow in relevance and popularity over the last half century. It has a story woven through it, and is a piece to cherish for a lifetime, and pass down the generations. It is an icon.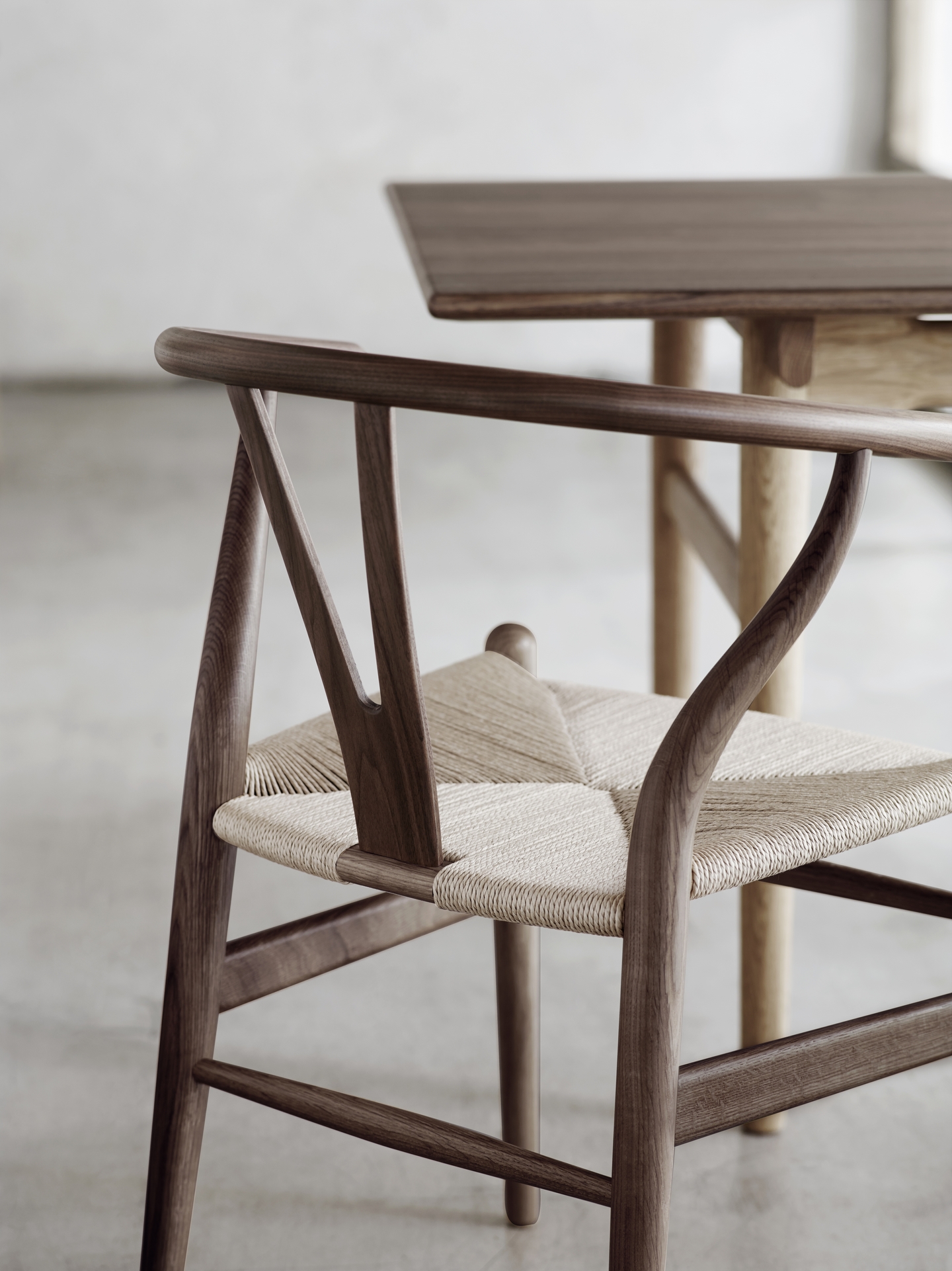 The lightness and sculptural shape of the classic CH24 Wishbone Chair by Hans J. Wegner adds style and functionality to any space.
The CH24 is available in 105 materials and colours.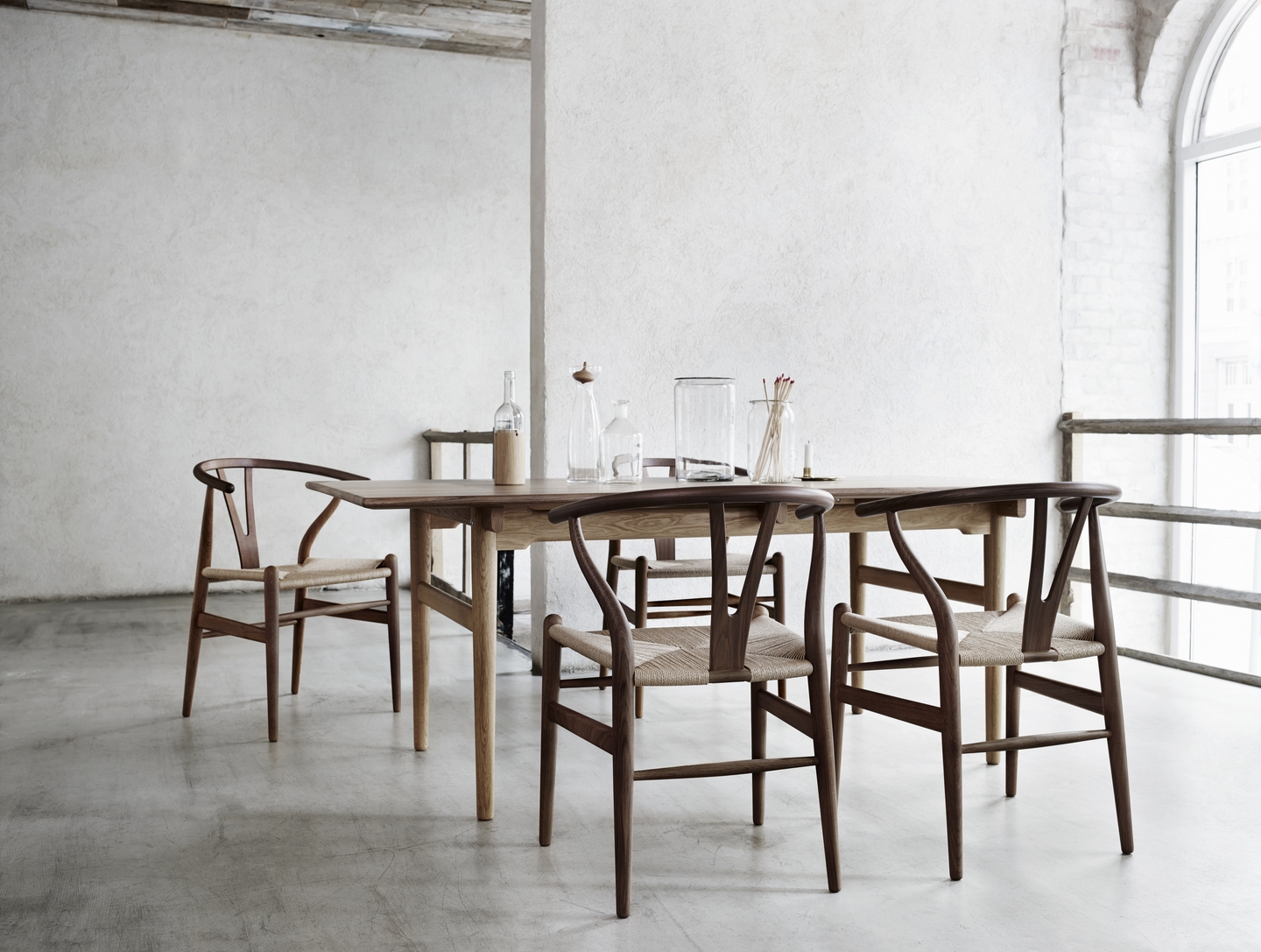 "Timeless beauty, comfort, craftsmanship, and sustainability are so deeply ingrained in all our furniture works that only sight and touch are required to understand and fall in love with them." – Knud Erik Hansen, CEO and owner
Find out more about the Wishbone Chair in the video below.