TAIT BREEZE MODULAR SOFA
Tait defies elegance and versatility in a new outdoor living series.
---
As one of Tait's most elegant collections to date, Breeze is welcoming an addition by form of Breeze Modular – a contemporary interpretation of the classic outdoor lounge setting. Marking Tait's first modular offering, Breeze Modular will deliver an unrivalled level of quality and luxury to Australia's life outside.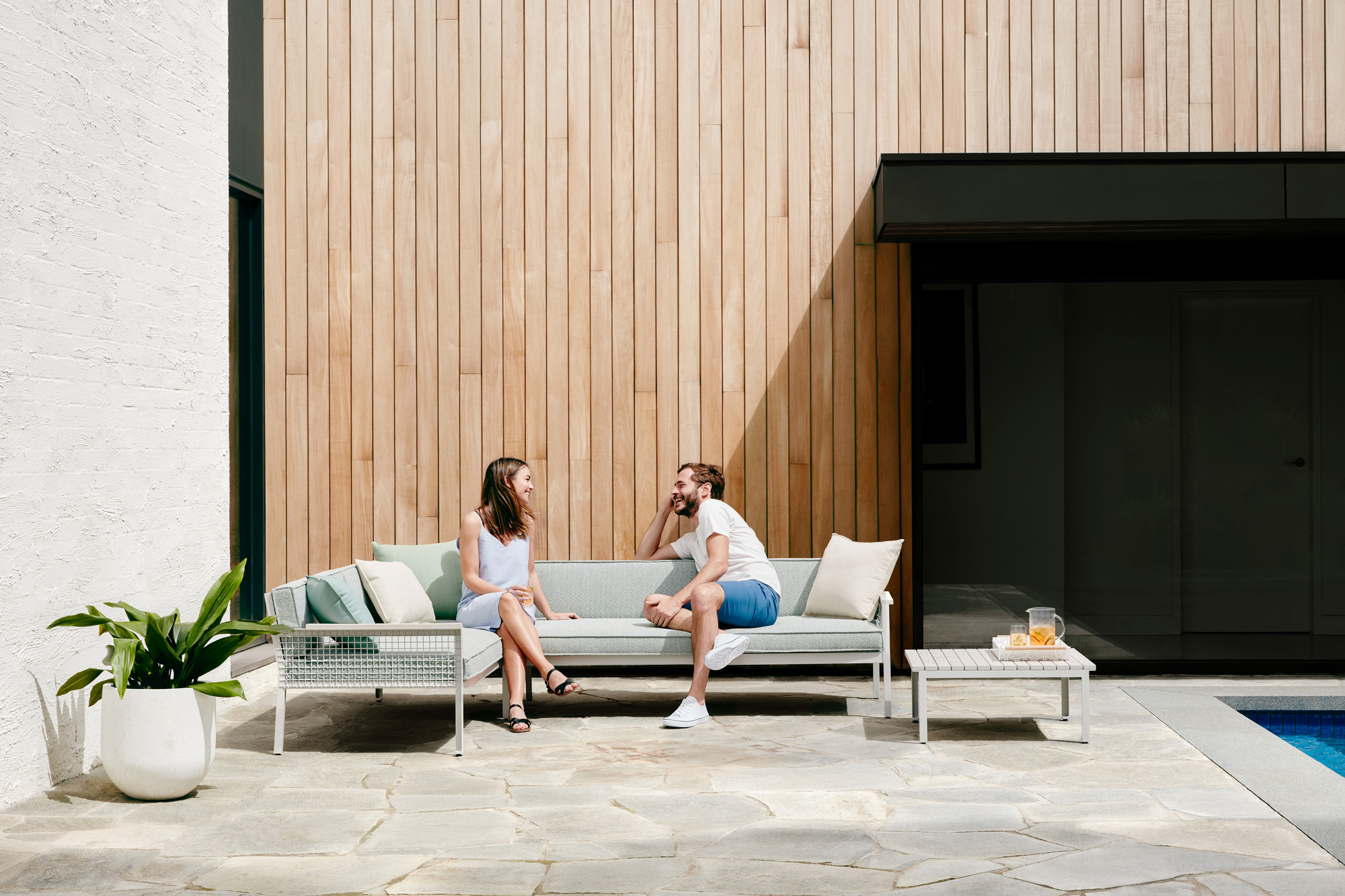 Breeze Modular photographed on location by Haydn Cattach.
An extension of Tait's Breeze collection, first introduced in 2012, Breeze Modular delivers a further level of sophisticated design and sociability to outdoor living. Encompassing seven unique modules that can be assembled in various ways, Breeze Modular incorporates corner and central units, coffee table and ottoman options, all the while vaunting the collection's signature 'breezy' woven-wire detail and timber arms.
Breeze Modular has been designed to enhance the Australian outdoor lifestyle, home and away; whether a pool-side terrace, rooftop bar, urban balcony or sprawling garden, or even indoors. Versatile, flexible and multi-functional, Breeze Modular's modules and material options allow the end user to essentially design their own setting, according to their social context. Read, relax, sleep, drink, eat; the options are endless.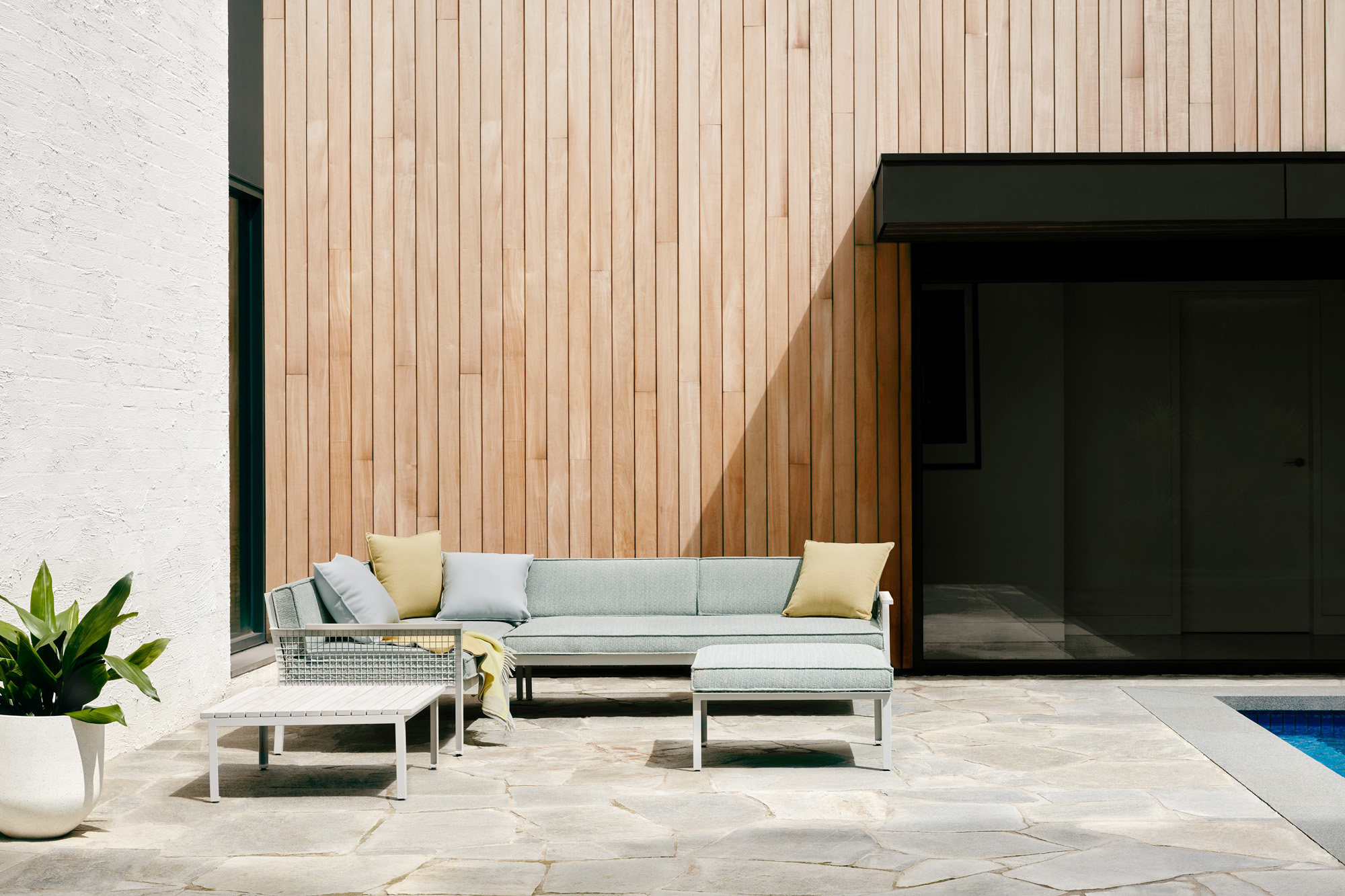 Conceived with authentic Australian design and expert craftsmanship, the series is manufactured with a zinc-plated steel frame and woven-wire mesh that can be powder coated in a variety of UV-stable colours. Either FSC Spotted Gum or Accoya timber can be chosen for its arm rests and table tops, while the coffee tables and ottomans can be selected with timber, glass or cushioned tops.
The collection's raw materiality can be softened by seat and back cushions offering optimum comfort, upholstered in an extensive selection of full exterior-grade fabrics, expertly chosen for outdoor use.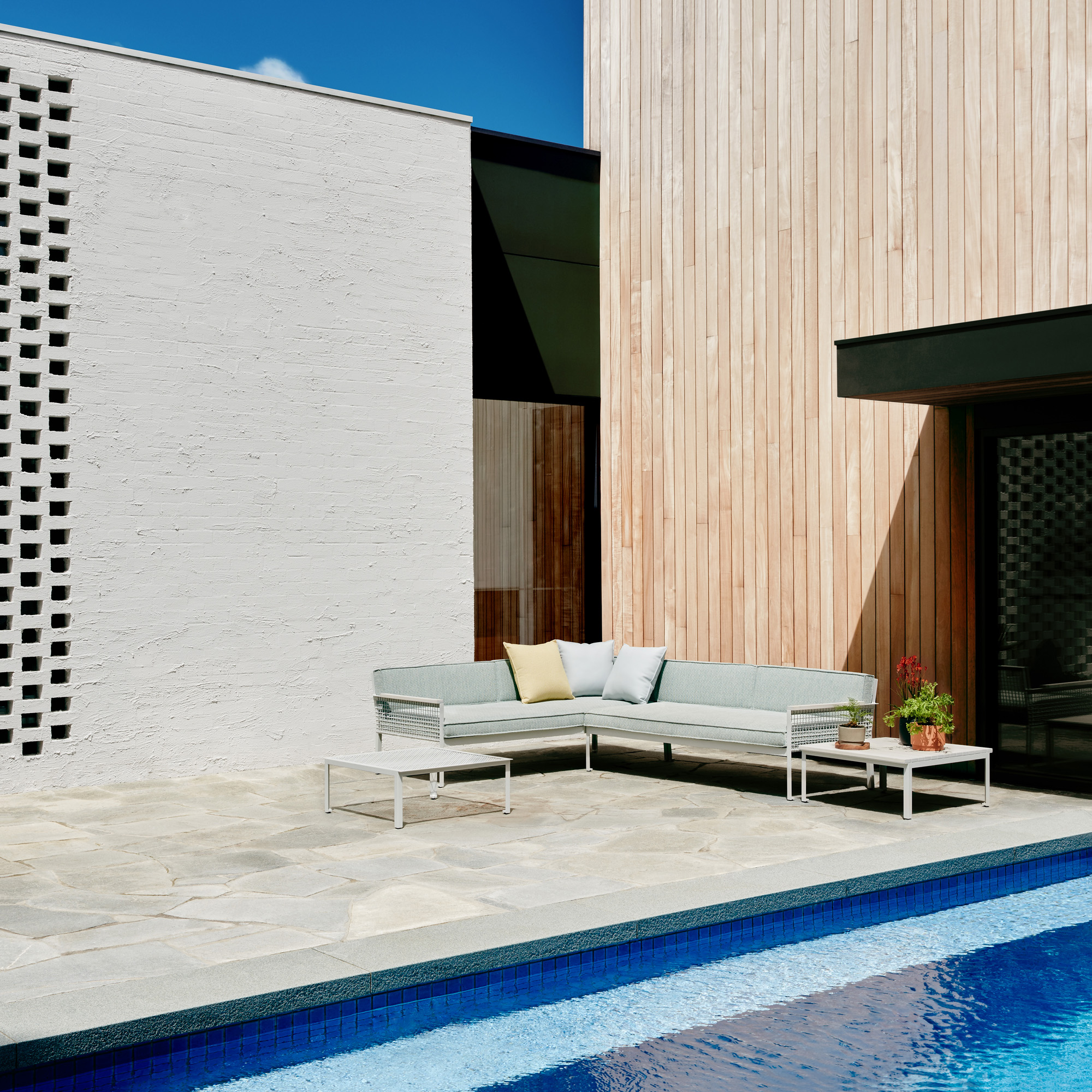 Breeze Modular photographed by Haydn Cattach.
Applicable to a range of commercial contexts, Breeze Modular has proved already popular within the design industry for various hospitality spaces, owing to its configuration options and effortless, laidback feel. The range was recently specified at QT Melbourne by Nic Graham & Associates, within the hotel's rooftop bar.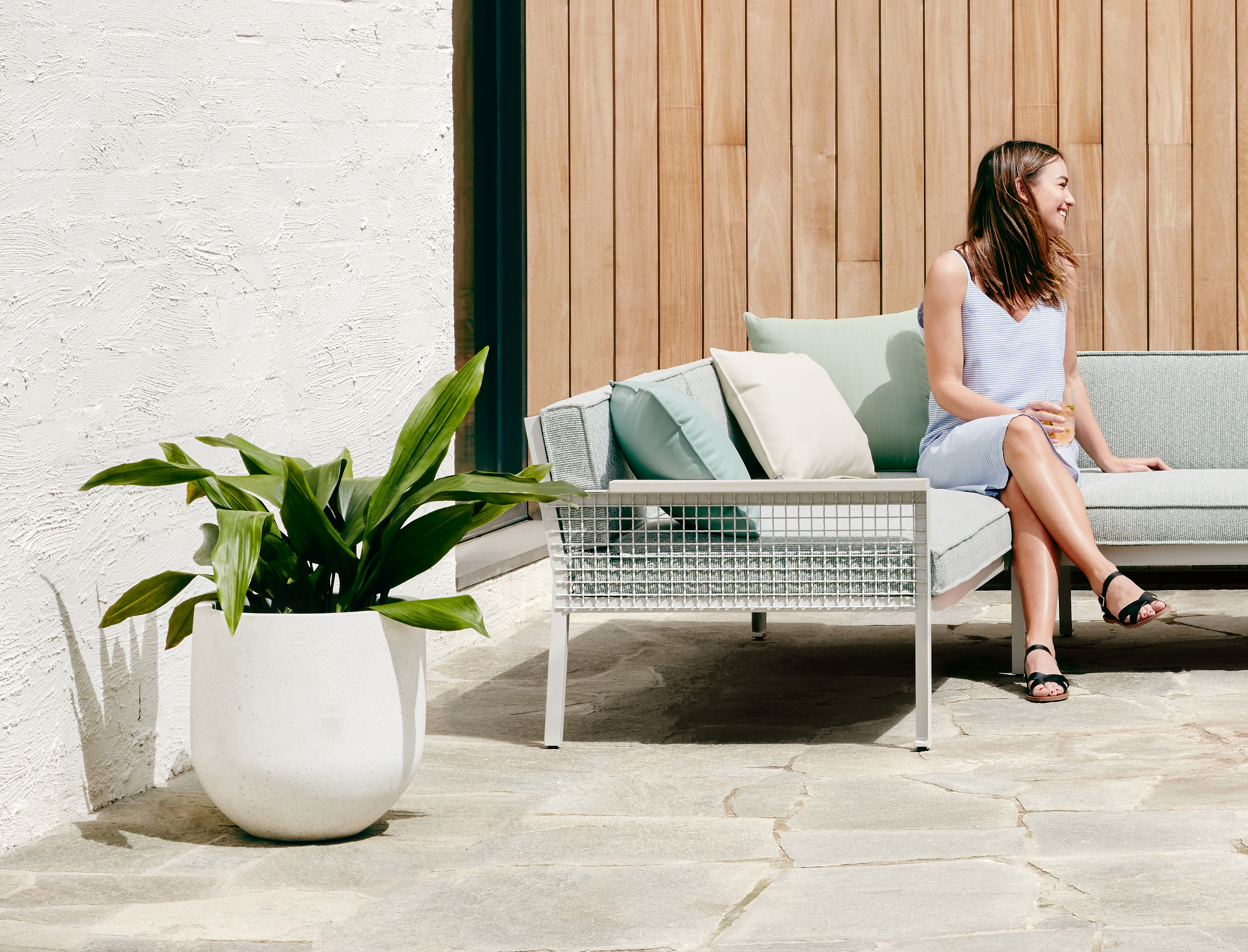 As a milestone addition to the Breeze collection, Managing Director Gordon Tait comments, "I've always loved the honesty of Breeze's materials, raw angles and three-dimensional wire. Its unique weave detail allows it to evoke a tactile, soft and airy feel. Breeze Modular has introduced a contemporary sophistication to the series and Tait's overall offering more than ever before."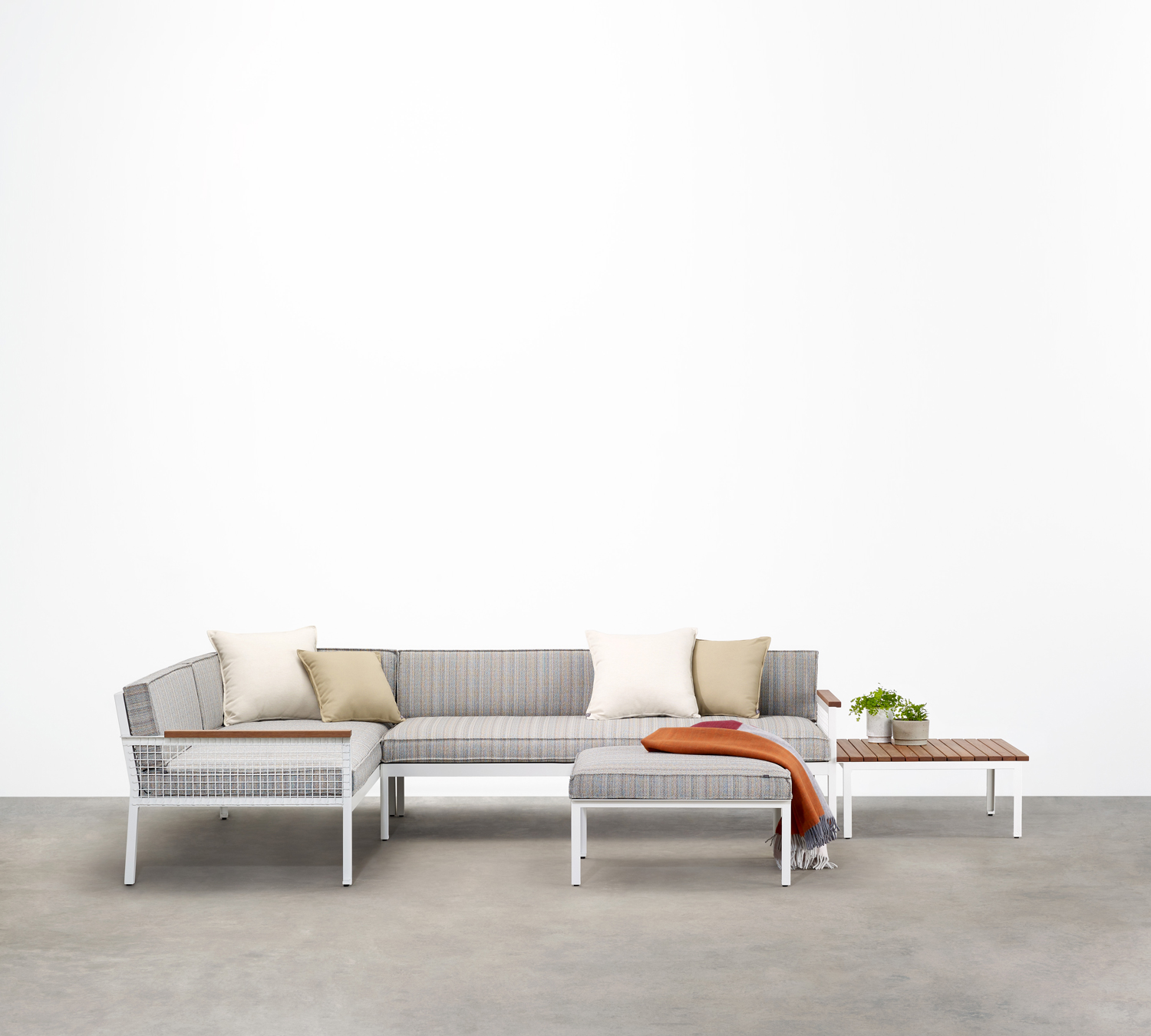 Available for order now through designFARM.